So my Trick Hat, Pricked Heart Babydoll JSK finally arrived today! I was really nervous that it wouldn't arrive in time for my flight back to LA so I've been on edge all week.
I even emailed Baby SF to let me know when they were going to ship it out because I was really worried that it would arrive while I was out of town. They emailed me back saying Monday, but once Monday rolled around, apparently the USPS site was down so they didn't mail it. So I thought they'd email me whenever they finally mail it out, but since there was no email, I assumed it wouldn't arrive today either. But today, I decided to check the mail after my final (it was late so I would have assumed my housemates would have gotten to it already, and lo and behold, sitting with all the junk mail: the key to the larger mail box.

I was so nervous that I had trouble opening the box.

When I finally did, there sitting before me was my beloved package from Baby SF.

I rushed back to my apartment and semi-spammed
five_sunsets
until we finally webcammed and I opened the box before her! Only to have my fingers get stuck to the glue on the box.

She laughed at me, BUT WHATEVER. She's had worse mishaps. B) Anyways, after opening the box, I realized that this was my first new brand purchase so I went to my bed and took pictures there before showing her & putting it on. I love love love my new JSK!

It squashes my boobs quite a bit though... but I still love it regardless.
Anyways, here are the pictures!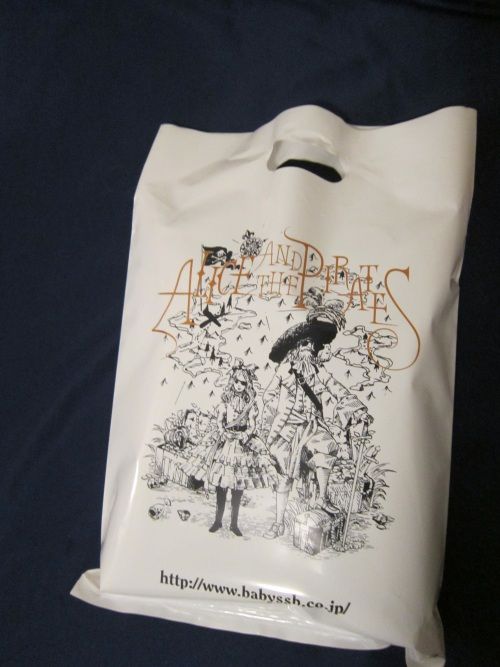 Directly inside the priority mail box was this AatP bag!

Inside the bag was this inner bag that was holding the dress in tissue paper. It came with a free sticker.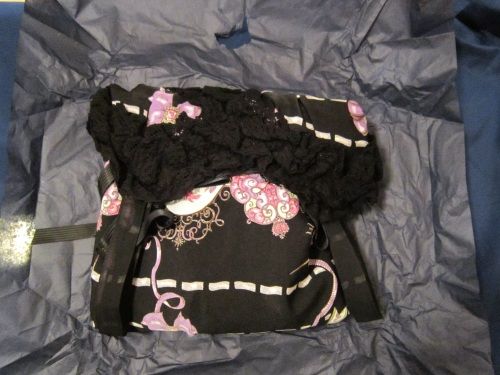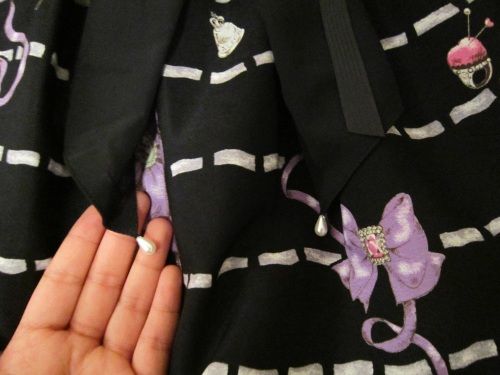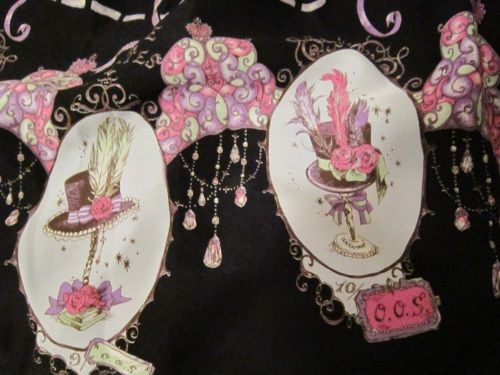 Inside the wrapping was this fantastic dress!

The waist tie is the same material as the dress and the neckties are striped. The shoulder straps are basically made of the same print, but the print is in grey. The lace, as depicted above, is polka dotted! What I really love are the two pearl drops attached to the bottom of the ribbon.

And finally, here it is worn! Unfortunately, I don't have any blouses yet, so please excuse the bare arms/chest.
I'm ordering one at the moment, same with a petticoat, so I shall upload better pictures when those arrive!
In terms of fit, the chest part is really tight for a babydoll. I wear a 36C and they squashed the girls a bit higher than at the midpoint...
So I probably wouldn't suggest this to those that wear larger than a C cup. The actual band fits around a 38 according to Baby, and while wearing it, I felt that another inch or two could be squeezed in without too much trouble.
Anyways, that was my first review! I can't wait to order more from Baby!